Annual Conference

Hotel Information
The Inn At Elon
605 North O'Kelly Avenue, Elon, NC 27244
Reservation Information
Book your rooms now at The Inn At Elon
*only upgraded suites remain available
Click here to reserve online or call 336-586-0329 to book by phone
Overflow Hotel
Drury Inn & Suites Burlington
1767 Glidewell Drive
Burlington, NC
336-584-2004
*rooms available for $124/night. The Drury is 4.7 miles from the Inn an Elon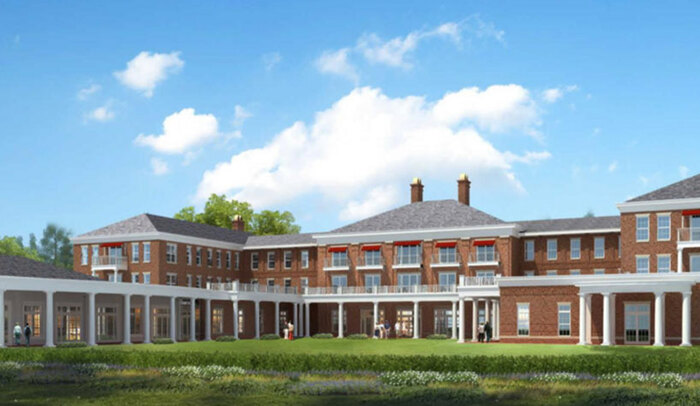 Restaurant Options - Elon & Surrounding Area
Looking to make dinner plans Wednesday evening?
Click here for dinner options
Registration
After a long year, we're so excited for the opportunities our annual meeting will provide us to network, learn, and grow our industry. Make plans to join us October 6-8 at the brand-new Inn at Elon!
Registration Prices:

$150 Facility Member (*Associate members, sponsorship required to attend)
$150 Member Spouse/Guest
$250 for Facility Non Member
Vendors
This is a unique opportunity to introduce your company's goods and services to members of the Recycling Association of North Carolina (RANC), the voice of North Carolina's scrap metal recyclers, during the 2021 Annual Conference at The Inn at Elon in Elon, NC.
Choose between three flexible options that are sure to heighten your company's visibility among business owners and executives in this dynamic industry. Click here to download a printable version of the sponsorship flyer.
Important Sponsor/Vendor Information:
Please make sure to read and agree to the 2021 Vendor Contract & Provisions Form. Form must be signed and returned to RANC. Your trade table is not secured without payment. If purchasing your sponsorship online, form can be read and approved electronically.

Tradeshow room layout can be viewed here. Spaces are available in order of the date of receipt of registration.

RANC Membership is required in order to take advantage of this opportunity;
Associate Memberships are available for $500 and is based upon a calendar year.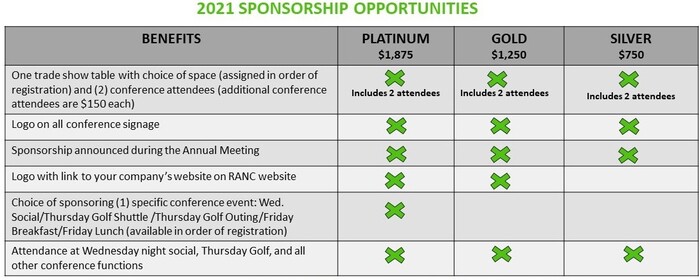 Agenda
Wednesday, October 6th, 2021
10:00 AM Registration opens - check in/grab your name tag - Hotel Foyer
3:30 PM RANC Board of Directors Meeting - Conference Room
5:00 PM Welcome Reception - Terrace/Gallery
Dinner on your own following reception.
Click here for restaurant options in Elon and surrounding area
Thursday, October 7th, 2021
8:00 AM Golf Outing

included with registration (shuttle will take all golfers to Stoney Creek Golf Club)
golfers meet in the hotel lobby at 8AM

2:00 PM Vendor check-in/set-up

Vendors can set tradeshow tables up in the Salon

5:00 PM Reception & Tradeshow
7:00 PM "A Taste of the Carolinas" - Salon

Casino Night & Tradeshow
Join us for "A Taste of the Carolinas" and some fun in the RANC "Casino"
Friday, October 8th, 2021
7:30 AM Breakfast Buffet - in the Hallway/Salon C
8:30 AM Annual Meeting Session - Salon
12:00 PM Lunch - Salon
1:00 PM Tradeshow & raffle
Speakers
Friday Speakers: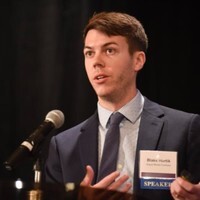 Blake Hurtik
Editor
Argus Metal Prices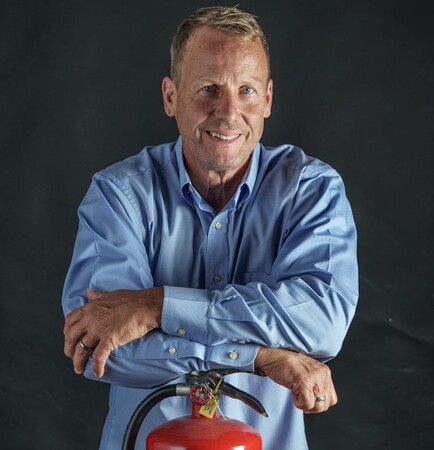 Kenneth A. Kunze
Fire Prevention Specialist
IC Fire Prevention

Kenn Kunze, of IC Fire Prevention LLC, is a retired Battalion Chief with thirty years of experience in the Combat Division of the Fort Wayne Indiana Fire Department. As an incident commander, Kenn fought to save property and life. He saw the tragedy first hand. His passion for fire prevention was forged at those incidents. As an NFPA certified Fire Inspector-I, he has worked in the recycling industry since 2015 and has a proven track record of reducing fire risk. In addition to working with recyclers across North America, Kenn has assisted in the development of the ISRI Fire Prevention and Management Plan and recently performed an ISRI funded study to assess fire risks in the recycling industries.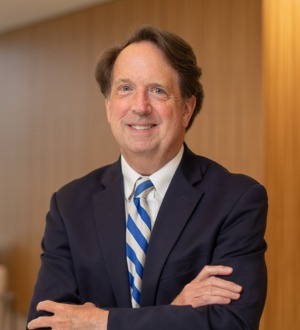 Ed Turlington
Government Affairs Report with Drew Moretz & Katy Kingsbury
Brooks Pierce
Having served in key leadership positions in state and federal government, Ed Turlington uses this experience to serve clients in a variety of industries, including health care, transportation and education. Much of his time is spent advising technology companies on legal issues and public policy matters.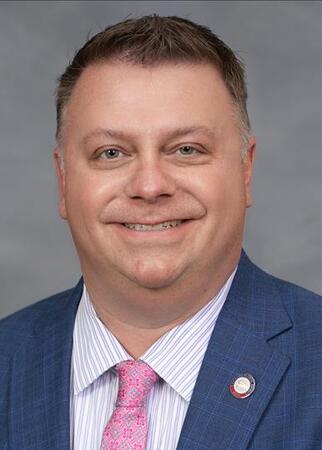 Representative Jason Saine
District 97
Representative Jason Saine represents the 97th North Carolina House District, which encompasses Lincoln County, NC. Rep. Saine is serving his fifth full term in the North Carolina House after being appointed in 2011. Rep. Saine was appointed by Speaker Tim Moore in 2019 to serve as a Senior Chairman of the House Appropriations Committee. The Appropriations Committee is responsible for preparing the state's $24 billion dollar budget.


RANC Roundtable - an interactive discussion centered around various, pressing topics related to our industry featuring members from RANC. Audience participation encouraged!

Moderator - Dustin Beam, RECO Equipment
Jon Kessick, Protrade Steel
Thomas Acree, High Tide Metals
Drew Kocsis, Schupan Materials Trading
Chris Triolo, Salvage America, Inc.
Lee Goldstein, TT&E
Dale Bevell, Wayne's Auto Salvage